Stocker B1600 Mineral
Product number: 10928
---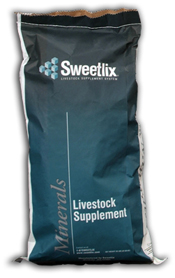 Product Information
For increased rate of weight gain in pasture cattle (slaughter, stocker, feeder cattle and dairy and beef replacement heifers).
Medicated with lasalocid for increased rate of weight gain in pasture cattle
Delivers balanced levels of essential minerals and vitamins needed by growing cattle
Convenient mixing table available on the product label
Feeding Instructions
CAUTION: USE AS DIRECTED. The safety of lasalocid for use in unapproved species has not been established. Do not allow horses or other equines access to feeds containing lasalocid as ingestion may be fatal. Mix thoroughly with grain and/or roughage prior to feeding. Feeding undiluted or mixing errors may result in excess lasalocid concentration, which could be fatal to cattle and sheep. Consumption of selenium should not exceed 3 mg per head daily.
WARNING: A withdrawal period has not been established for this product in pre-ruminating calves. Do not use in calves to be processed for veal.
WARNING: This product, which contains added copper, should not be fed to sheep or any species with a low tolerance to supplemental copper.
Feeding Recommendations:
Thoroughly mix SWEETLIX Stocker B-1600 with non-medicated feed at the levels indicated below to provide the desired intake of lasalocid per head per day. Cattle must receive no less than 60 mg nor more than 300 mg lasalocid per head per day in not less than 1 lb. of feed for the stated drug claim.
Non-Medicated
SWEETLIX® Stocker
Medicated Feed
Bovatec®
Feed
B1600
Consumed
Intake
(lbs/ton)
(lbs/ton)
(lbs/hd/day)
(mg/hd/day)

---

1,950
50
3-10
60-200
1,850
150
1-3
60-180
1,750
250
1-2
100-200
1,625
375
1-1.33
150-200
1,500
500
1
200
Indications for Use: Intakes of lasalocid in excess of 200 mg per head daily has not been shown to be more effective than 200 mg per head per day.
Provide fresh, clean water to all animals at all times.
Bovatec® is a registered trademark of Zoetis Inc.
Nutrition Information
| | |
| --- | --- |
| Calcium, Min | 15.50% |
| Calcium, Max | 18.60% |
| Phosphorus, Min | 3.00% |
| Salt, Min | 18.00& |
| Salt, Max | 21.60% |
| Magnesium, Min | 5.00% |
| Copper, Min | 800 ppm |
| Iodine, Min | 35 ppm |
| Manganese, Min | 3,200 ppm |
| Selenium, Min | 24 ppm |
| Zinc, Min | 2,300 ppm |
| Vitamin A, Min | 300,000 IU/lb |
| Vitamin D-3, Min | 30,000 IU/lb |
| Vitamin E, Min | 30 IU/lb |
Product Ingredients
Active Drug Ingredient:
Lasalocid...............1,600 g/ton
Calcium Carbonate, Salt, Monocalcium Phosphate, Dicalcium Phosphate, Magnesium Oxide, Processed Grain By-Products, Molasses Products, Roughage Products, Hydrogenated Soybean Oil, Manganous Oxide, Manganese Sulfate, Zinc Oxide, Zinc Sulfate, Copper Sulfate, Sodium Selenite, Ethylenediamine Dihydroiodide, Calcium Iodate, Cobalt Carbonate, Vitamin A Supplement, Vitamin D-3 Supplement, Vitamin E Supplement, Mineral Oil, Red Iron Oxide and Artificial Flavoring.