Rack™ Deer Mineral
Product number: 11075
---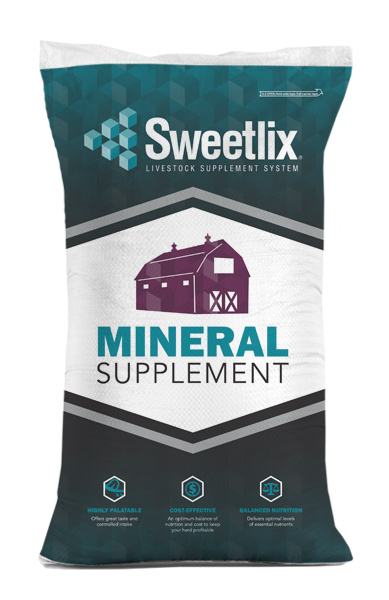 Product Information
Loose mineral supplement that mimics natural mineral lick when mixed with soil
Scientifically formulated to supply calcium and phosphorous - the minerals necessary for maximum rack growth
Palatable molasses and other ingredients ensure that deer eat the mineral
Provides essential trace minerals needed for optimum reproduction and growth
Available in 25 lb. bag
Feeding Instructions
CAUTION: Use as directed. This product contains added selenium. Do not feed in conjunction with another product containing selenium.
WARNING: This product, which contains added copper, should not be fed to sheep or any species with a low tolerance to supplemental copper.
Important: The use of this wild game product is intended for wildlife conservation practices only and in no way should be used otherwise.
Feeding Recommendations:
Feed on the ground in close proximity to natural food plots, watering areas and trails. For best results, dig a hole and bury the mineral supplement under 1 inch of soil to avoid leaving human scent. Pick remote areas that wild deer frequently visit. Avoid feeding SWEETLIX RACK Deer Mineral in locations where domestic livestock may consume this mineral supplement. Use several feeding stations and, once consumption is established, replenish the mineral supplement as needed. If allowed to run out, the feeding station may need to be relocated.
Nutrition Information
| | |
| --- | --- |
| Calcium, Min | 16.00% |
| Calcium, Max | 19.20% |
| Phosphorus, Min | 10.00% |
| Salt, Min | 31.00% |
| Salt, Max | 36.00% |
| Magnesium, Min | 0.75% |
| Copper, Min | 300 ppm |
| Selenium, Min | 26 ppm |
| Zinc, Min | 1,600 ppm |
| Vitamin A, Min | 120,000 IU/lb |
| Vitamin D-3, Min | 50,000 IU/lb |
Product Ingredients
Monocalcium Phosphate, Dicalcium Phosphate, Salt, Calcium Carbonate, Deflorinated Phosphorus, Molasses Products, Magnesium Oxide, Manganous Oxide, Manganese Sulfate, Zinc Oxide, Zinc Sulfate, Copper Sulfate, Sodium Selenite, Ethylenediamine Dihydroiodide, Calcium Iodate, Cobalt Carbonate, Vitamin A Supplement, Vitamin D-3 Supplement, Mineral Oil, Red Iron Oxide and Artificial Flavoring.