Lamb Maker™ Mineral Pressed
Product number: 58615
---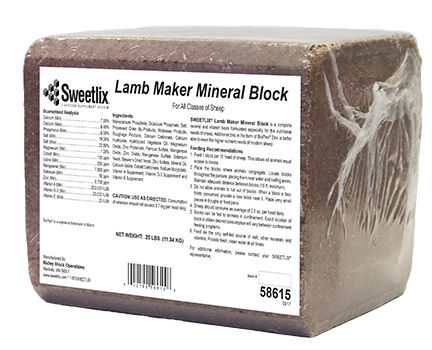 Product Information
The Lamb Maker Mineral Pressed Block delivers the same great nutritional package of the other Lamb Maker supplements but in a convenient, 25-lb pressed block. This small block size is undesirable as a sleeping or playing spot for lambs, making it ideal for lactating ewes and growing lambs. This high quality mineral is designed exclusively for sheep to promote health and well-being through proper nutrition.
Designed especially for the nutritional needs of sheep to promote health and well-being through proper nutrition
High quality nutritional package, including organic minerals from BIOPLEX Zinc for improved bioavailability
Highly palatable formula designed to keep sheep coming back for more
Conveniently sized, 25-lb pressed block is easily transported and doesn't need special feeders or bunks
BIOPLEX® is a registered trademark of Alltech
Feeding Instructions
CAUTION: USE AS DIRECTED. Consumption of selenium should not exceed 0.7 mg per head daily.

Feeding Recommendations:
Feed 1 block per 10 head of sheep. This allows all animals equal access to blocks.
Place the blocks where animals congregate. Locate blocks throughout the pasture, placing them near water and loafing areas. Maintain adequate distance between blocks (10 ft. minimum).
Do not allow animals to run out of blocks. When a block is two-thirds consumed, provide a new block near it. Place very small pieces in troughs or feed pans.
Sheep should consume an average of 0.5 oz. per head daily.
Blocks can be fed to animals in confinement. Exact location of block to obtain desired consumption will vary between confinement feeding programs.
Feed as the only self-fed source of salt, other minerals and vitamins. Provide fresh, clean water at all times.
Nutrition Information
| | |
| --- | --- |
| Calcium, Min | 7.00% |
| Calcium, Max | 8.40% |
| Phosphorus, Min | 6.00% |
| Salt, Min | 19.00% |
| Salt, Max | 22.80% |
| Magnesium, Min | 1.00% |
| Cobalt, Min | 130 ppm |
| Iodine, Min | 250 ppm |
| Manganese, Min | 7,000 ppm |
| Selenium, Min | 50 ppm |
| Zinc, Min | 8,700 ppm |
| Vitamin A, Min | 200,000 IU/lb |
| Vitamin D-3, Min | 20,000 IU/lb |
| Vitamin E, Min | 200 IU/lb |
Product Ingredients
Monocalcium Phosphate, Dicalcium Phosphate, Salt, Processed Grain By-Products, Molasses Products, Roughage Products, Calcium Carbonate, Calcium Hydroxide, Hydrolyzed Vegetable Oil, Magnesium Oxide, Zinc Proteinate, Ferrous Sulfate, Manganous Oxide, Zinc Oxide, Manganese Sulfate, Selenium Yeast, Brewer's Dried Yeast, Zinc Sulfate, Mineral Oil, Calcium Iodate, Cobalt Carbonate, Sodium Molybdate, Vitamin A Supplement, Vitamin D-3 Supplement and Vitamin E Supplement.