Futurity Precise® Maintenance Mineral Block
Product number: 58973
---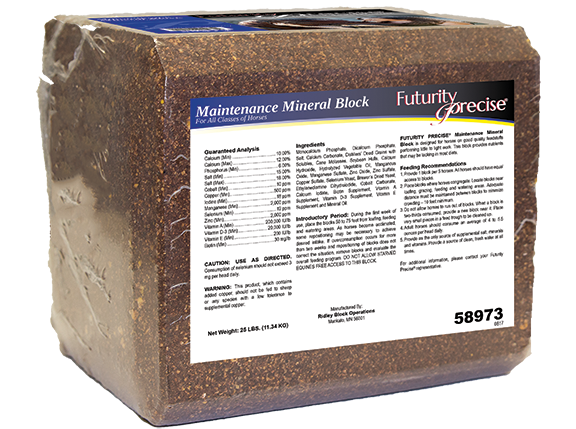 Product Information
FUTURITY PRECISE Maintenance Mineral Block is designed for horses on good quality feedstuffs performing little to light work. This block provides nutrients that may be lacking in most diets.
A high quality mineral and vitamin supplement for horses who only require maintenance nutrition
Ideal for mature, non-breeding horses who receive light to moderate work-outs
Slightly lower fortification levels of minerals and vitamins than the premium product due to decreased need
Added biotin to support healthy hoof growth
Highly palatable formula designed to keep your horses coming back for more
Conveniently sized, 25-lb pressed block is easily transported
NET WEIGHT: 25lbs.
Feeding Instructions
CAUTION: USE AS DIRECTED.
Consumption of selenium should not exceed 3 mg per head daily.
WARNING: This product, which contains added copper, should not be fed to sheep or any species with a low tolerance to supplemental copper.
Introductory Period: During the first week of use, place the blocks 50 to 75 feet from loafing, feeding and watering areas. As horses become acclimated, some re-positioning may be necessary to achieve desired intake. If over consumption occurs for more than two weeks and re-positioning of blocks does not correct the situation, remove blocks and evaluate the overall feeding program. DO NOT ALLOW STARVED EQUINES FREE ACCESS TO THIS BLOCK.
Feeding Recommendations
Provide 1 block per 5 horses. All horses should have equal access to blocks.
Place blocks where horses congregate. Locate blocks near loafing, grazing, feeding and watering areas. Adequate distance must be maintained between blocks to minimize crowding – 10 feet minimum.
Do not allow horses to run out of blocks. When a block is two-thirds consumed, provide a new block near it. Place very small pieces in a feed trough to be cleaned up.
Adult horses should consume an average of 4 to 5.5 ounces per head daily.
Provide as the only source of supplemental salt, minerals and vitamins. Provide a source of clean, fresh water at all times.
Nutrition Information
| | |
| --- | --- |
| Calcium, Min | 10.00% |
| Calcium, Max | 12.00% |
| Phosphorus, Min | 6.00% |
| Salt, Min | 15.00% |
| Salt, Max | 18.00% |
| Cobalt, Min | 10 ppm |
| Copper, Min | 500 ppm |
| Iodine, Min | 18 ppm |
| Manganese, Min | 2,000 ppm |
| Selenium, Min | 19 ppm |
| Zinc, Min | 2,000 ppm |
| Vitamin A, Min | 200,000 IU/lb |
| Vitamin D-3, Min | 20,000 IU/lb |
| Vitamin E, Min | 200 IU/lb |
| Biotin, Min | 30 mg/lb |
Product Ingredients
Monocalcium Phosphate, Dicalcium Phosphate, Salt, Calcium Carbonate, Distillers' Dried Grains with Solubles, Cane Molasses, Soybean Hulls, Calcium Hydroxide, Hydrolyzed Vegetable Oil, Manganous Oxide, Manganese Sulfate, Zinc Oxide, Zinc Sulfate, Copper Sulfate, Selenium Yeast, Brewer's Dried Yeast, Ethylenediamine Dihydroiodide, Cobalt Carbonate, Calcium Iodate, Biotin Supplement, Vitamin A Supplement, Vitamin D-3 Supplement, Vitamin E Supplement and Mineral Oil.