Blueprint® Breeder 8% Phos Bio-Mos® 2
Product number: 71221
---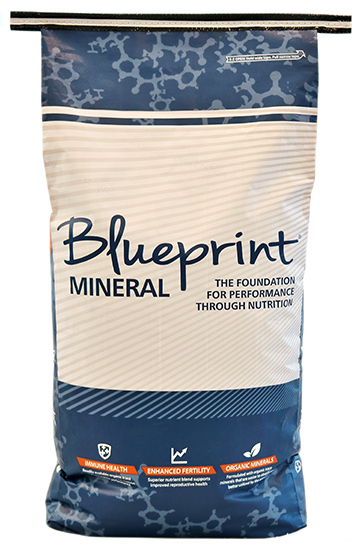 Product Information
For beef cattle on pasture self-feeding to grazing beef cattle.
We ask a lot from our cows. We want them to birth a healthy calf, give lots of milk to support rapid growth and then breed back, all within a relatively short period of time. Blueprint Breeder 8% Phos BIO-MOS 2 Mineral provides a more fortified level of supplementation than other Blueprint minerals to meet these additional nutritional needs. Exclusive use of BIOPLEX organic trace minerals and SEL-PLEX selenium yeast provide minerals in forms that most similar to those found in nature which are easily absorbed and readily metabolized by animals. Added BIO-MOS 2 helps promote good bacteria in the gut and builds natural defenses at one of the most stressful periods in the production calendar, thereby maximizing performance and profitability. Bio-Mos 2 also supports improved gut health for optimal nutrient transfer during lactation, helping to give calves the best start possible.
Feeding Instructions
SWEETLIX Blueprint 8% Phos BIO-MOS 2 Mineral is formulated to be self-fed to beef cattle on pasture. SWEETLIX Blueprint 8% Phos BIO-MOS 2 Mineral contains BIOPLEX and SEL-PLEX organic minerals and BIO-MOS 2 to help support overall performance and help your cattle attain maximum genetic potential.
Feed at the rate of 2 to 4 ounces per head per day. Provide one covered mineral feeder for every 20 to 30 animals. Locate each mineral feeder near a clean, fresh source of water. Mineral consumption levels will vary depending upon the mineral status of the animals. Provide fresh, clean water to all animals at all times.
CAUTION: Use as directed. Consumption of selenium should not exceed 3 mg per head per day.
WARNING: This product, which contains added copper, should not be fed to sheep or any species that have a low tolerance to supplemental copper.
Bioplex®, Sel-Plex® and Bio-Mos® 2 are registered trademarks of Alltech
Nutrition Information
| | |
| --- | --- |
| Calcium, Min | 12.00% |
| Calcium, Max | 14.40% |
| Phosphorus, Min | 8.00% |
| Salt, Min | 12.00% |
| Salt, Max | 14.40% |
| Magnesium, Min | 3.00% |
| Cobalt, Min | 72 ppm |
| Copper, Min | 675 ppm |
| Iodine, Min | 90 ppm |
| Manganese, Min | 945 ppm |
| Selenium, Min | 26 ppm |
| Zinc, Min | 1980 ppm |
| Vitamin A, Min | 225,000 IU/lb |
| Vitamin D-3, Min | 22,500 IU/lb |
| Vitamin E, Min | 200 IU/lb |
Product Ingredients
Monocalcium Phosphate, Dicalcium Phosphate, Calcium Carbonate, Salt, Processed Grain By-Products, Magnesium Oxide, Molasses Products, Plant Protein Products, Hydrolyzed Yeast, Roughage Products, Vegetable Oil, Zinc Proteinate, Copper Proteinate, Manganese Proteinate, Selenium Yeast, Cobalt Proteinate, Ethylenediamine Dihydroiodide, VitaminE Supplement, Vitamin A Supplement, Vitamin D-3 Supplement, Artificial Flavor, Mineral Oil and Artificial Coloring.