Blueprint® Fescue FEB-200™
Product number: 71223
---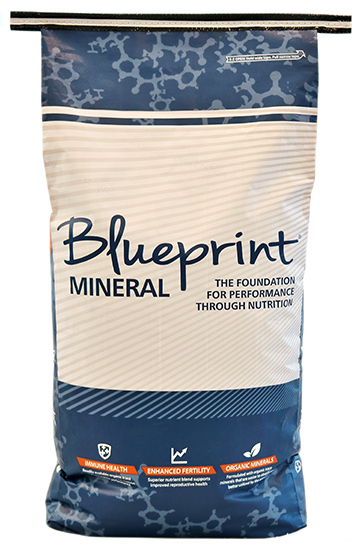 Product Information
For beef cattle consuming fescue forages.
Fescue forages provide unique challenges for cattle producers. Fescue is not only grown in areas known to be deficient in several essential minerals, but research has also shown that the fescue endophyte itself alters mineral availability in the fescue plant for cattle as well. Blueprint Fescue FEB-200 Mineral is specially formulated for these unique needs and offers more fortified levels of highly bioavailable organic trace minerals specifically designed to combat known nutritional and health issues for cattle grazing fescue forages such as depressed intake, decreased blood flow to extremities and a decreased ability to dissipate heat. Exclusive use of BIOPLEX organic trace minerals and SEL-PLEX selenium yeast provide minerals in forms that are as close to nature as possible and are easily absorbed and readily metabolized by animals. Added FEB-200 helps support overall performance and helps cattle attain maximum genetic potential on fescue forages.
Feeding Instructions
SWEETLIX Blueprint Fescue FEB-200 Mineral is scientifically formulated for the unique needs of cattle consuming fescue forages. SWEETLIX Blueprint Fescue FEB-200 Mineral contains BIO-PLEX 2 and SEL-PLEX organic minerals and FEB-200 to help support overall performance and help your cattle attain maximum genetic potential.
Cattle should consume an average of 2-4 ounces per head daily based on a 1,000-lb animal. Provide one covered mineral feeder for every 20 to 30 animals. Locate each mineral feeder near a clean, fresh source of water. Mineral consumption levels will vary depending upon the mineral status of the animals. SWEETLIX Blueprint Fescue FEB-200 Mineral is a complete mineral and vitamin supplement. Feed as the only SELF-FED source of salt, minerals and vitamins. Provide fresh, clean water to all animals at all times.
CAUTION: Useasdirected. Consumption of selenium should not exceed 3 mg per head daily.
WARNING: This product, which contains added copper, should not be fed to sheep or any species with a low tolerance to supplemental copper.
Bioplex®, Sel-Plex® and FEB-200™ are registered trademarks of Alltech
Nutrition Information
| | |
| --- | --- |
| Calcium, Min | 10.00% |
| Calcium, Max | 12.00% |
| Phosphorus, Min | 2.00% |
| Salt, Min | 10.00% |
| Salt, Max | 12.00% |
| Magnesium, Min | 4.00% |
| Cobalt, Min | 72 ppm |
| Copper, Min | 675 ppm |
| Iodine, Min | 90 ppm |
| Manganese, Min | 945 ppm |
| Selenium, Min | 26 ppm |
| Zinc, Min | 1,980 ppm |
| Vitamin A, Min | 225,000 IU/lb |
| Vitamin D-3, Min | 22,500 IU/lb |
| Vitamin E, Min | 200 IU/lb |
Product Ingredients
Calcium Carbonate, Processed Grain By-Products, Salt, Monocalcium Phosphate, Dicalcium Phosphate, Magnesium Oxide, Molasses Products, Hydrolyzed Yeast, Roughage Products, Hydrated Sodium Calcium Aluminosilicate, Plant Protein Products, Vegetable Oil, Zinc Proteinate, Copper Proteinate, Manganese Proteinate, Silicon Dioxide, Selenium Yeast, Cobalt Proteinate, Ethylenediamine Dihydroiodide, VitaminE Supplement, Vitamin A Supplement, Vitamin D-3 Supplement, Artificial Flavor, Mineral Oil and Artificial Coloring.