Farm Flock Supplement Block
Product number: 42532
---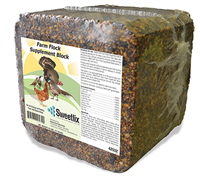 Product Information
Supplement feed block for all classes of poultry, fowl and game birds
Delivers high quality protein, including the essential amino acids methionine and lysine
Healthy whole grains provide energy
Added oyster shell for proper digestion
Satisfies birds' natural pecking tendencies, helping alleviate aggression between birds
Round-the-clock delivery of key nutrients
Works in conjunction with existing feed program - Not a substitute for feed
Happy birds = happy owner
Contains BIO-MOS® 2
BIO-MOS® is a registered trademark of Alltech.
Feeding Instructions
Directions for use: SWEETLIX Farm Flock Supplement Block is designed especially for the needs of your home flock. Made with wholesome grains, minerals and vitamins critical for growth and egg productions, SWEETLIX Farm Flock Supplement Blocks works in conjunction with most rations.

Provide at least 1 block per 5-20 birds, depending upon size, housing conditions and ration availability. It may be necessary to provide more than one block for access purposes.

Place blocks in an appropriate feeder or on the ground away from excessive moisture. SWEETLIX Farm Flock Supplement Block satisfies birds' natural pecking tendencies and can help alleviate aggressive behavior between birds.

Store blocks in a cool, dry area away from rodents and insects.
Nutrition Information
| | |
| --- | --- |
| Crude Protein, Min | 8.25% |
| Lysine, Min | 0.30% |
| Methionine, Min | 0.25% |
| Crude Fat, Min | 4.00% |
| Crude Fiber, Max | 4.50% |
| Calcium, Min | 2.60% |
| Calcium, Max | 3.10% |
| Phosphorus, Min | 0.75% |
| Salt, Min | 0.75% |
| Salt, Max | 1.25% |
Product Ingredients
Whole Corn, Whole Milo, Whole Wheat, Whole Barley, Whole Sunflower Seeds, Oyster Shell, Cane Molasses, Lignon Sulfonate, Soft Rock Phosphate, Processed Grain By-Products, Calcium Carbonate, Salt, Soybean Oil, Roughage Products, Choline Chloride, Manganese Sulfate, Zinc Sulfate, Ferrous Sulfate, Copper Sulfate, Vitamin A Supplement, Vitamin D-3 Supplement, Vitamin E Supplement, Mineral Oil, Calcium Pantothenate, Riboflavin Supplement, Vitamin B-12 Supplement, Sodium Selenite, Niacin Supplement, Folic Acid, Menadione Dimethlypyrimidol Bisulfite, Biotin, Ethylenediamine Dihydroiodide, Pyridoxine Hydrochloride, Thiamine Mononitrate, DL-Methionine and L-Lysine.